NON-REACTIVE SELF-TEST
If your self-test looks like the example below, the result is negative.
1 line appears: the control line.
This line may be light or dark.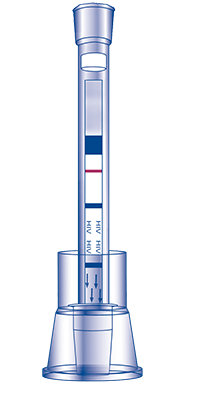 YOUR SELF-TEST IS NON-REACTIVE
YOU ARE PROBABLY
HIV-NEGATIVE
autotest VIH® is a reliable test, however:
If your result is negative, it is important to ensure that you are not in the window period (seroconversion*) and to consult a doctor.
If you think you may have been exposed to HIV in the last 3 months, you cannot be certain about being HIV-negative at this time. You will need to redo the self-test once 3 months have passed since your most recent risk of exposure to HIV.
*Seroconversion refers to the period of time required for HIV antibodies to develop in sufficient quantity to become detectable.
REACTIVE SELF-TEST
If your self-test looks like one of the examples below, the result is positive.
2 lines appear: the control line and the test line.
Either of the lines may be lighter or darker than the other.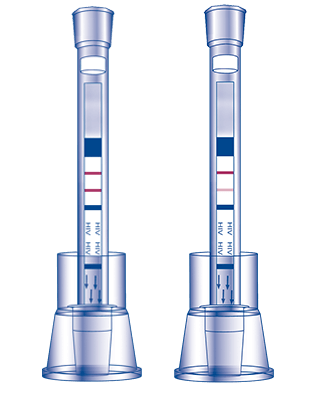 YOUR SELF-TEST IS REACTIVE
YOU ARE PROBABLY
HIV-POSITIVE
1. CONSULT A DOCTOR, as soon as possible, and inform him/her that you have just done a self-test for HIV and that your result was positive.
2. YOUR SELF-TEST RESULT MUST BE VERIFIED BY HAVING A CONFIRMATORY LAB TEST.
3. PROTECT YOURSELF and PROTECT OTHERS.
Avoid any activity that could transmit HIV to others until you have received the results of your confirmatory test.